Candy coated apples
Caramel apples with crushed Oreo cookies, chocolate drizzle and peanuts.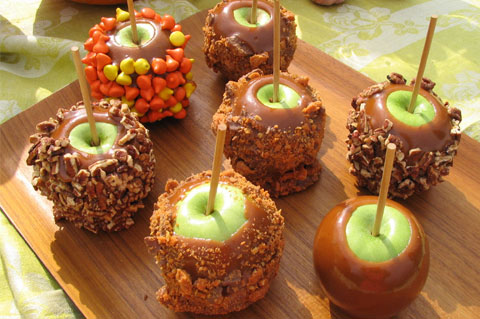 Dip those apples in caramel, but don't stop there! We're rolling these babies in crushed Oreo cookies, crushed peanuts and a chocolate drizzle.
Candy coated apples
Makes 6 candy apples
Ingredients:
6 apples
1 cup homemade caramel sauce (recipe below)
1 bag chocolate chips
1 bar white baking chocolate (to drizzle over chocolate mixture, if desired)
Large wooden dowels
Crushed toppings (I used crushed Oreo cookies, nuts, sprinkles, red-hot candies and mini-M&M's)
Directions:
Wash apples and remove stems. Dry the apples with a paper towel or dish towel.
Make sure you are using room temperature, not cold apples, or the caramel will slide off of the apple.
Melt chocolate chips in the microwave and stir every 30 seconds until completely melted. Set aside.
Insert dowel into apple and dip into caramel sauce. Now turn the apple right side up. Hold the dowel part down with the apple on top to allow caramel to set.
Wait a minute or so, and then dip into chocolate or drizzle chocolate over apples. Then dip in crushed topping and set on a cookie sheet lined with parchment paper to set.
If using white chocolate, drizzle white chocolate on top of chocolate mixture. (Refrigerate).
Place individual apples in a clear cellophane bag and decorate with pretty ribbon to give as a gift!
*To make fine crumbs for topping, place Oreo cookies or nuts in blender or food processor, or just crush in a zip-top bag, then place on a saucer to dip the apples in the mixture.
Caramel sauce
Ingredients:
1 stick butter
1 cup brown sugar, firmly packed
1/2 cup heavy cream
1 teaspoon vanilla
Directions:
In a small saucepan, combine brown sugar, butter and heavy cream, and cook over low heat until smooth, whisking to combine.
Remove from heat and stir in vanilla.
More fun apple recipes
Mini caramel apple bites
Boozy caramel apple ice cream
Caramel apple pancakes