Modern Mom: Thanksgiving chores for kids in the kitchen
Thanksgiving is very well the busiest day of the year. Make it easier on yourself by letting the kids pitch in with these age-appropriate chores!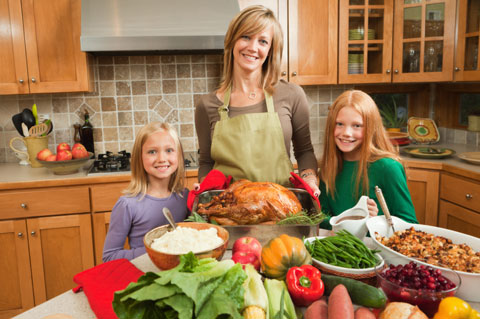 Hosting Thanksgiving with kids in the house can be stressful — very stressful. I'm the type of person that prefers to do everything myself, but since having kids I've had to learn to relinquish control and accept the fact that not everything is going to go according to plan. Cooking dinner with kids in the kitchen can be hard enough, worse yet Thanksgiving dinner! Here's an age-appropriate guide to let the kids help out and make your day a little more relaxing!
Toddlers (ages 1-3)
It's no lie that the easiest way to occupy your toddler is to turn on the television, but they can actually help out a bit, too. Have them do small tasks such as carrying napkins to the table, wiping down the table before it's set or even walking around with the Swiffer to clean the floors (my 18-month-old loves this). Keep it simple with the toddlers and if all else fails, turn on cartoons!
Preschoolers (ages 3-5)
Preschoolers can help with the actual setting of the table, loading the dishwasher, washing vegetables and wiping down the table. They can help fetch ingredients you need and put them away as you go. They can stir dishes (such as fluffing stuffing or adding butter to mashed potatoes) and place large serving utensils in the dishes once they're done. Luckily, preschoolers understand commands and enjoy helping out, so make the most of it!
Grade-schoolers (ages 6-12)
If you have grade-school kids, you're in luck! Children ages 6-12 can be tons of help in the kitchen. And unlike teens, they like to help! Growing up, I remember always being put in charge of setting up the hors d'oeuvres. I'd arrange the olives, pickles, cheese and crackers and deviled eggs, keeping myself entertained by making fun shapes out of each dish (and eating some along the way!). Older grade-schoolers can fully set the table, load and unload the dishwasher and make easy dishes with your assistance.
Teenagers (ages 13 and up)
Thanksgiving is the time to put the teens to work! Each teen can be responsible for one or two dishes that they can make on their own — be it a sweet potato mash with caramelized onions or a traditional pumpkin pie with pecan topping. We suggest having them make their dishes a day or two in advance so the kitchen's not too crowded come Thanksgiving Day. Teens can also help clean the floors, set and clear the table, clean and stock the bathroom, pour drinks and entertain younger siblings. If you have a teen that is also willing to help out, consider yourself lucky!
It's best to come up with a tentative schedule of each child's responsibilities beforehand so everyone knows their place. Thanksgiving Day should run smoothly if each person accomplishes their tasks and is willing to help with other chores once they're done.
More Modern Mom
Modern Mom: Fall foods the kids will love
Modern Mom: How often can kids work out?
Modern Mom: Should kids go vegan?