White bean and quinoa chili
This hearty meatless chili recipe packed with extra nutrition from protein-rich quinoa and flavorful veggies. Whip it up on your next meatless meal night!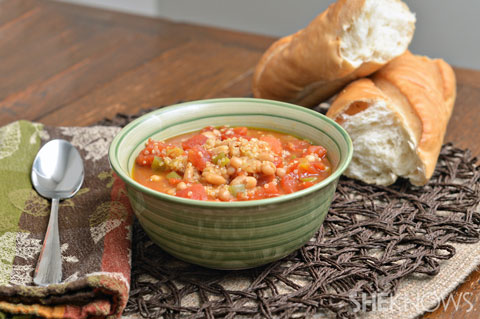 White bean quinoa chili recipe
Serves 4-6
Ingredients:
6-8 green onions, thinly sliced, green parts removed
1 large green bell pepper, seeded and chopped
1 jalapeno pepper, seeded and chopped
2 tablespoons extra virgin olive oil
6 cloves garlic, minced
4 cups vegetable stock
2 (15 ounce) cans diced tomatoes
2 (15 ounce) cans white chili beans, rinsed and drained
1 teaspoon ground cumin
1 teaspoon chili powder
Salt and pepper to taste
3/4 cup quinoa
Directions:
In a medium pan, sauté the green onions, bell pepper and jalapeno in the olive oil over medium-high heat.
Once the vegetables are tender, transfer them to a Crock-Pot.
Add in the garlic, vegetable stock, diced tomatoes and beans to the Crock-Pot and stir all of the ingredients to combine.
Add in ground cumin, chili powder, salt and pepper, then cook the chili in the Crock-Pot on LOW for 3 to 4 hours.
Add in 3/4 cup quinoa and cook until the quinoa is tender, approximately 30 minutes.
Once the quinoa is tender, divide the chili into bowls and serve.
More Crock-Pot meals
Crock-Pot chicken recipes
Tender Crock-Pot tacos
Easy Crock-Pot corn on the cob