Cranberry sauce yogurt parfaits
Use up that leftover cranberry sauce. Add to the top of tangy Greek yogurt and sprinkle with granola. This is a great breakfast on the run.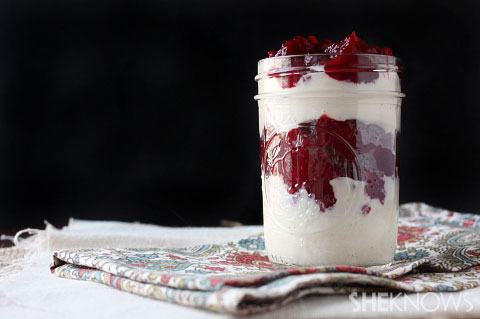 Not sure what to do with all those Thanksgiving leftovers? This sweet breakfast treat is jam packed full of vanilla Greek yogurt and layers of sweet leftover cranberry sauce. We have kicked it up a notch and brought the leftover party to breakfast.
Cranberry sauce yogurt parfaits
Yields 2 parfaits
Ingredients: 
1 cup leftover sweet cranberry sauce
1 cup vanilla Greek yogurt
2 small Mason jars
Optional: Granola for topping
Directions:
In a Mason jar, layer cranberry sauce and Greek yogurt.
This can be done the night before so you can easily grab and go in the morning.
Note: Looking for the perfect cranberry sauce? Try this delicious Sangria cranberry sauce. It will pair perfectly with the creamy Greek yogurt.
More parfait recipes
Jell-O parfaits recipe
Roasted strawberry parfait recipe
Apple quinoa parfait recipe