3 Cookie butter desserts
If you've never had cookie butter, you haven't lived. Instead of spoon-feeding it to yourself (which we've never, ahem, done), we've taken this famous spread and made three fun desserts with it!
Not only will you love these desserts, but your kids will love the sweet buttery flavor they get from the cookie butter. Now you can have cookie butter all day without getting stares from your family as you spoon it into your mouth!
No-bake cookie butter dip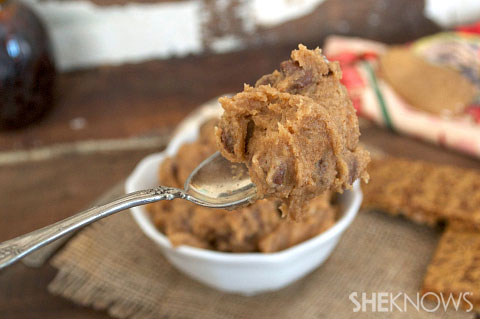 Serves about 6
Ingredients:
2 tablespoons unsalted butter, softened
2 tablespoons almond butter
4 tablespoons cookie butter
3/4 cup brown sugar
1 cup whole wheat flour
2 tablespoons milk
2/3 cup chocolate chips
1 teaspoon vanilla
Directions:
In the bowl of a stand mixer, beat the butter, cookie butter, vanilla, sugar, flour and milk together. Stir in the chocolate chips. Serve immediately or chill with a tight lid.
Cookie butter milkshake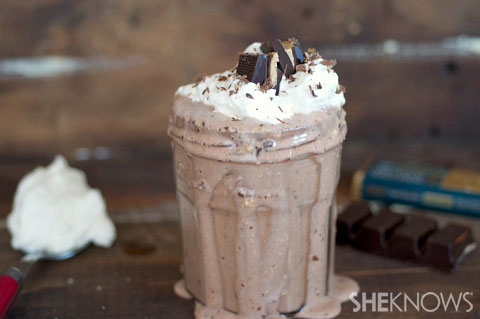 Serves 1
Ingredients: 
1 cup chocolate ice cream
1/2 cup chocolate swirled cookie butter
1/4 cup milk
1 cookie butter filled candy bar
Whipped cream for topping
Directions: 
Place all of the ingredients (except for the whipped cream) in the blender. Blend until smooth.
Serve with whipped cream and chopped chocolate candy bar.
Super fudgy cookie butter brownies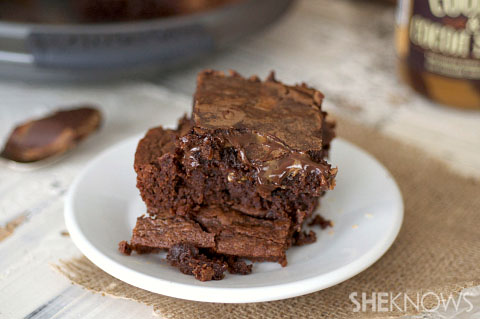 Serves about 8
Ingredients:
1 box fudge brownie mix
2 eggs
3/4 oil
1/4 cup water
5 tablespoons milk chocolate, melted
1/3 cup chocolate swirled cookie butter
Directions: 
Preheat oven to 350 degrees F. Grease an 8 x 8-inch baking dish with nonstick cooking spray and set aside.
In a large bowl, mix the brownie mix, eggs, oil and water together. Pour mixture into the prepared brownie pan. Add melted chocolate and swirl mixture together.
Drop the cookie butter by spoonfuls onto the brownie mixture. Using a skewer or sharp knife, swirl the batter around the brownies until it's fully incorporated and smooth.
Bake for 22 to 25 minutes. (You want the middle to be gooey and melty).
More dessert and butter recipes
Easy homemade cookie butter
Brown butter Rolo chocolate chip cookies
Maple almond butter sea salt cookies