DIY lunchables for kids
Forget those store-bought snack boxes and make your very own right at home. Save money and create healthier options for your kids to snack on.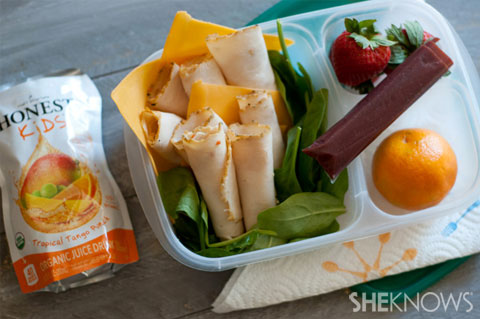 Kids love lunchables but they aren't exactly the healthiest thing for our little ones to snack on. Here we give you ideas on how to make your very own version of lunchables at home. This not only saves money, it keeps us moms in control of what our kids are eating.
DIY lunchables for kids recipe
Yields 2 lunchables
Ingredients:
2 organic juice drinks
2 divided airtight containers with lids
4 slices all-natural turkey breast
4 slices cheddar cheese
Assorted fruit such as grapes, berries, apple slices or bananas
2 all-natural chocolate puddings (we used one made with almond milk and can be found at health food stores)
Directions:
With a cookie cutter or a small biscuit cutter, stack 1 slice of cheese and 2 slices of turkey together. Using the cutter, cut out as many small pieces from the stack as possible and arrange them in the divided container. Repeat with remaining cheese and turkey.
Add the fruit to another compartment of the container and finally the pudding. Place the lid on the container and store in the refrigerator.
Chicken tender lunchable recipe
Yields 2 lunchables
Ingredients:
2 organic juice drinks
6 organic, all-natural chicken tenders
All-natural yogurts
4 gingersnap cookies
Ketchup or BBQ sauce for dipping
Directions:
Arrange 1 juice drink, 3 chicken strips, 1 yogurt and 2 cookies in each of the airtight containers. You may also include ketchup or BBQ sauce in a small condiment container and include it inside the container with the chicken.
Cover with lid and store in the refrigerator.
Almond butter and jelly lunchable recipe
Yields 2 lunchables
Ingredients:
2 organic chocolate milk boxes
4 slices whole grain bread
2 tablespoons almond butter
2 tablespoons strawberry jam
8 whole grain crackers
2 ounces cheddar cheese cubes
Fresh strawberries
Directions:
Divide 2 tablespoons of almond butter and 2 tablespoons of strawberry jam between the slices of bread to form 2 sandwiches. Cut the sandwiches into triangles or squares and arrange them in an airtight container.
Divide the crackers and cheese along with the strawberries between both containers and top with lid. Store in the refrigerator until ready to serve. Enjoy with 1 chocolate milk box per lunchable.
More DIY recipe ideas
DIY pickles
DIY organic coconut milk
DIY homemade microwave popcorn