Dinner Shortcuts: Pierogi and sautéed mushrooms
Need a quick dinner? This easy and flavorful pierogi dish will blow your mind. Plus it's ready in under 30 minutes.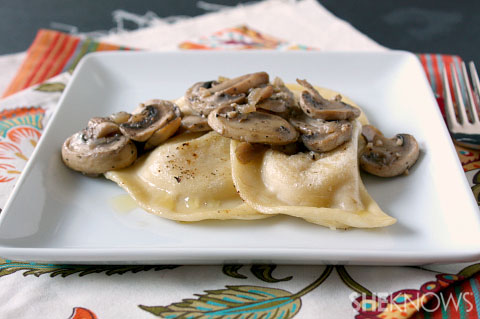 Pierogis aren't just a side dish. They can be a flavorful main course or even a quick meatless lunch. You're going to love these garlic-infused mushrooms and these creamy potato pierogis.
Pierogi and sautéed mushrooms
Yields 2 servings
Ingredients:
1 (16 ounce) box frozen pierogis
2 tablespoons olive oil
1 pound sliced mushrooms
Salt and pepper, to taste
2 cloves garlic, minced
1/4 cup white wine (or use chicken stock)
Directions:
Add a medium-sized pot full of water to high heat. Once boiling, add pierogis and cook until soft and hot. Drain and set aside.
Add olive oil to a large skillet over medium heat. Add in mushrooms and cook until they start to soften and release their water.
Add in salt, pepper, garlic and white wine. Cook until mushrooms are soft and almost all the liquid has cooked off.
Gently add cooked pierogis to the pan and cook together until flavors have combined, about 5 minutes.
More Dinner Shortcuts recipes
Sorta homemade baked beans recipe
One-skillet tuna noodle casserole recipe
Smoky kielbasa with peppers and onions recipe