Whole wheat pasta with prosciutto and beans
Pasta and beans, or pasta e fagioli, is a staple in Italian cooking. Like many Italian dishes, this meal consists of basic, widely available ingredients you already have in your pantry. In this recipe, the beans provide a good amount of protein to the pasta, making it the perfect dish to serve to your family.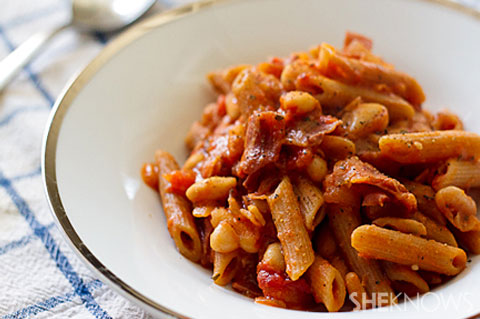 For more flavor, delicious crispy prosciutto and a few dashes of red pepper flakes are added to provide an extra kick. Buon appetito!
Whole wheat pasta with prosciutto and beans
Yields 4 servings
Ingredients:
2 cups small pasta, like penne
1 small chopped onion
2 chopped garlic cloves
4 slices prosciutto, sliced into small strips
1 can cannellini beans, rinsed and drained
1 can tomato sauce
1 teaspoon dried oregano
1 teaspoon dried parsley
1 teaspoon red pepper flakes, or to taste
1 tablespoon butter
Salt and pepper, to taste
Directions:
Cook the pasta until al dente. Reserve 1/4 cup of pasta water for cooking at the end if sauce needs more liquid.
In a pan over medium heat, add prosciutto strips and cook for 2 to 3 minutes until crisp; set aside on a plate. Add onions and garlic and sauté for 4 to 5 minutes. Stir in the tomato sauce and herbs and cook for 10 minutes. Add cannellini beans and simmer for another 10 to 15 minutes.
Stir in the prosciutto and season with salt and pepper. Stir in butter and then pasta. If the dish seems dry, just add some of the reserved pasta water.
More healthy recipes
Zucchini fries recipe
Oven-baked eggplant fries recipe
Taro fries recipe with Sriracha ketchup recipe