Almond poppy seed muffins
Almond poppy seed muffins are a breakfast staple no one should be without. Fluffy and tender muffins are lightly flavored with almond extract and sprinkled throughout with toasted almonds and poppy seeds.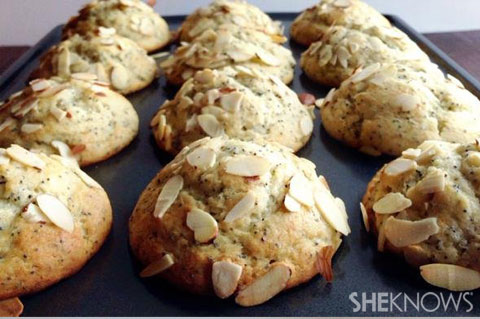 Almond poppy seed muffins
Makes 12-14 muffins
Ingredients:
1/2 cup vegetable oil
1/2 cup unsweetened applesauce
1 cup plain yogurt
2 whole eggs
1/2 teaspoon almond extract
1/2 teaspoon vanilla extract
3 cups all-purpose flour
1 tablespoon baking powder
1 teaspoon baking soda
1/2 teaspoon salt
3 tablespoons poppy seeds
1/3 cup sliced almonds
Directions:
Preheat oven to 375 degrees F.
Line a muffin pan with muffin cups or spray generously with nonstick spray.
In a large bowl whisk together the oil, applesauce, yogurt, eggs, almond extract and vanilla extract.
Sift in the flour, baking powder, baking soda and salt and fold until just combined.
Stir in the poppy seeds until evenly distributed.
Fill each muffin cup about 3/4 of the way full of batter.
Sprinkle evenly with sliced almonds.
Bake at 375 degrees F for 15 to 20 minutes or until the muffins are just done.
Allow to cool before eating.
More muffins with delicious poppy seeds
Glazed lemon poppy seed muffins
Almond poppy seed muffins
Lemon poppy seed muffins