Cheeseburger meatloaf
Cheeseburger meatloaf is perfectly moist and tender, bringing a flavor that is usually only found in the favorite summer grilled cheeseburger!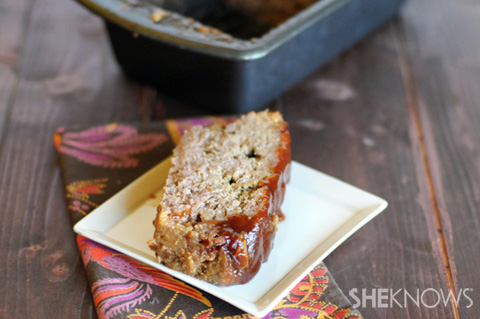 Cheeseburger meatloaf
Serves 6-8
Ingredients:
2 pounds ground beef
1 onion, grated on a box grater
2 large carrots, grated on a box grater
2 cloves garlic, minced
2 tablespoons Dijon mustard
1 cup ketchup, divided
1 whole egg
1 cup breadcrumbs
1/2 teaspoon salt
1/2 teaspoon pepper
3/4 cup shredded cheddar cheese
1/4 cup brown sugar
1 tablespoon Worcestershire sauce
Directions:
Preheat oven to 350 degrees F.
Spray a 9 x 5-inch loaf pan with nonstick spray and set aside.
In a large bowl, combine the ground beef, onion, carrot, garlic, mustard, 1/2 cup of ketchup, egg, breadcrumbs, salt, pepper and cheese until everything is evenly distributed.
Press evenly into the prepared loaf pan.
Bake for 45 minutes.
While the meatloaf is baking, whisk together the remaining 1/2 cup of ketchup, brown sugar, and Worcestershire sauce.
When the meatloaf has baked for 45 minutes, remove from the oven and pour the ketchup mixture on top. Return to the oven to bake for another 35 minutes.
Let sit for 10 minutes before serving.
Serve hot.
Delicious meatloaf favorites
Apple meatloaf with five-spice glaze
Southwest meatloaf
Pineapple meatloaf