Philly cheesesteak sloppy Joes
Philly cheesesteak sloppy Joes mean that dinner is boring no more! Just make sure to toast the buns for a great texture and even better flavor for these already stellar sandwiches.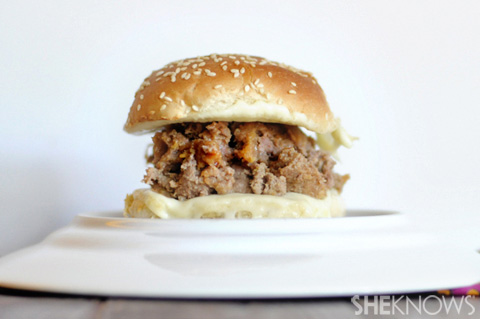 Philly cheesesteak sloppy Joes
Serves 4
Ingredients:
1 pound ground beef
2 whole green bell peppers, seeded and chopped
1 large white onion, peeled and chopped
1 tablespoon olive oil
1/4 cup Worcestershire sauce
1/4 cup beef stock
1 teaspoon salt
1/2 teaspoon pepper
4 hamburger buns
4 slices provolone cheese
Directions:
Heat a large skillet over medium heat.
Add the olive oil and ground beef.
Brown the ground beef until almost cooked through, then add the chopped pepper and onion.
Saute for about 6 to 8 minutes until the vegetables are softened.
Add the Worcestershire sauce, beef stock, salt and pepper.
Bring to a simmer and allow to cook until the liquid has almost completely evaporated.
Meanwhile toast the buns to desired doneness.
Serve the ground beef mixture piled high on the toasted buns and topped with a slice of provolone cheese.
More sloppy Joe favorites
Vegan sloppy Joes
Sloppy Joe grilled cheese
Tex-Mex sloppy Joes in a slow cooker