Vegetable pot pie with sweet potato biscuit topping
Vegetable pot pie with sweet potato biscuit topping means that carnivores and vegetarians alike can meet on a delicious middle ground. This pot pie can be made with fresh vegetables, but the frozen ones work beautifully too, meaning you can spend more time with your family and friends than chopping in the kitchen!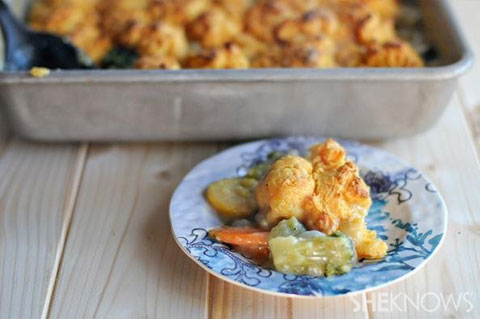 Vegetable pot pie with sweet potato biscuit topping
Serves 6-8
Ingredients:
32 ounces frozen or fresh vegetable medley of choice (options are endless: carrots, squash, zucchini, broccoli, cauliflower, peas, etc.)
2 cups pearl onions
1 tablespoon olive oil
2 cups milk
2 tablespoons cornstarch
1 tablespoon fresh chopped thyme
1 tablespoon fresh chopped rosemary
2 teaspoons salt
1 teaspoon pepper
3/4 cup pureed sweet potato
1/2 cup buttermilk
6 tablespoons very cold butter, grated on a box grater
1-1/2 cups flour
1 tablespoon baking powder
1-1/2 teaspoons salt
Directions:
Preheat oven to 400 degrees F.
Spray a 9 x 13-inch pan with nonstick spray and set aside.
Whisk together the sweet potato puree and buttermilk.
Toss the grated butter with the flour, baking powder and salt.
Stir the flour mixture into the sweet potato mixture and refrigerate while the rest of the pot pie is cooking.
Heat a large pot over medium heat.
Add the olive oil.
Add the vegetable medley of choice and allow to cook until the vegetables start to soften.
Whisk the flour and cornstarch together and add to the vegetables cooking.
Bring to a simmer and allow the liquid to thicken, stirring constantly, until very thick.
Remove from the heat and add the pearl onions. Stir to combine.
Pour the mixture into the prepared baking dish.
Drop the sweet potato dough by 2 tablespoonfuls evenly on top of the pot pie mixture.
Bake at 400 degrees F for 20 to 25 minutes or until the biscuits are golden brown and done.
Serve hot.
More pot pie madness