Pumpkin soup
Warm pumpkin soup for cool fall nights.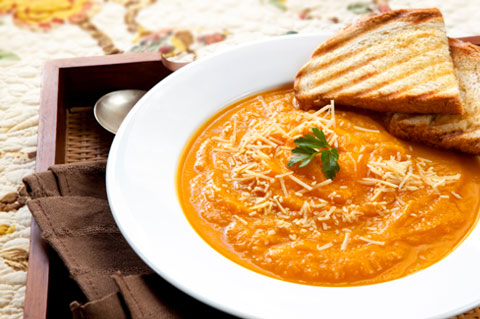 Warm up to a delicious, savory pumpkin soup for dinner one fall night. You and the kids will love it!
Pumpkin soup
Serves 4
Ingredients:
1 tablespoon olive oil
1 large yellow onion, diced
2 cloves garlic, minced
1 teaspoon fresh ginger, minced
2 cups chicken broth
2 cans pure pumpkin puree
1 can coconut milk
2 teaspoons curry powder
1/2 teaspoon cayenne pepper
Greek yogurt for topping
4 tablespoons roasted pumpkin seeds, for topping
Directions:
Heat olive oil in a large pot over medium heat.
Add onions, garlic and fresh ginger.
Stir until onions become soft, then add chicken broth, pumpkin, coconut milk and seasonings.
Bring to a boil then reduce heat to medium-low, cover and simmer.
Serve with a dollop of Greek yogurt.
More pumpkin recipes
29 Sweet and savory pumpkin recipes
Stuffed mini pumpkins
Spicy sweet potato pumpkin bites