Dinner Shortcuts: Black bean, vegetable and rice skillet
Looking for a quick weeknight vegetarian dish? This simple skillet supper will be ready in no time and it's packed full of flavor.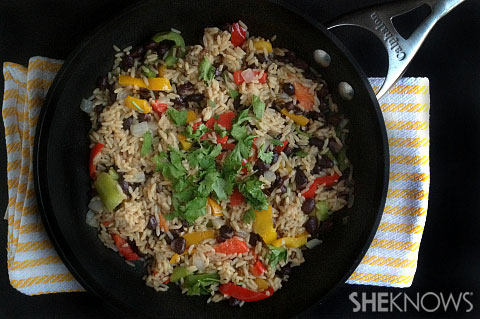 A quick dinner doesn't have to mean fattening or microwaved. This fast supper is packed full of vegetables, wild rice, spices and black beans. If you're looking to pump up your protein, this dish is perfect with leftover chicken or eggs.
Black bean, vegetable and rice skillet
Yields 2 servings
Ingredients:
2-3 tablespoons olive oil
1 cup chopped mixed vegetables (we used colored bell peppers, onions and celery)
1/4 teaspoon smoked paprika
1/4 teaspoon garlic powder
1/4 teaspoon Mexican chili powder
Salt and pepper, to taste
1/2 cup black beans
1 (8 ounce) packet 90-second microwavable wild rice
2 tablespoons chopped cilantro
Directions:
In a large skillet, heat oil and add in vegetable and spices. Saute until soft.
Add in black beans and uncooked bag of rice. Break apart rice and cook until heated throughout.
Sprinkle with cilantro.
Note: Using the 90-second rice helps this dish because the rice is already pre-cooked. This is also a great dish for leftover rice.
More Dinner Shortcuts recipes
Slow cooker cranberry sweet and spicy meatball recipe
Cheesy crescent dog recipe
Smoky kielbasa with peppers and onion recipe