Cinnamon sugar pumpkin English muffins
Can't get your kids to eat breakfast before school? Instead of a bland bagel or toast, why not give them one of these pumpkin cinnamon sugar English muffins? Topped with butter, these are absolutely irresistible!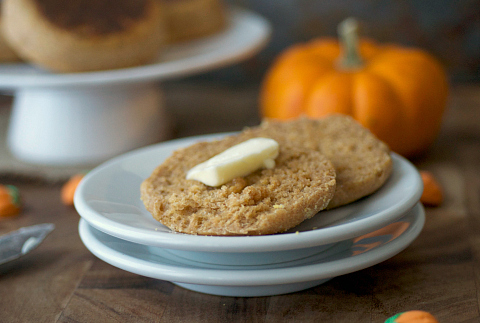 'Tis the season of pumpkin! We added it to our favorite homemade English muffin recipe for a fantastic and easy fall update. They require a bit of love and work, but after one bite you'll be hooked. Even though these delicious muffins are excellent on their own, we always top ours with some creamy cinnamon sugar butter!
Cinnamon sugar pumpkin English muffins
Yields about 8
Ingredients:
2 cups bread flour
1 cup whole wheat flour
1 package active dry yeast
2 teaspoons baking powder
2 teaspoons pumpkin pie spice
2/3 cup milk, 110-120 degrees F
1/2 cup pumpkin puree
1/3 cup water, 110 degrees F
1/4 cup honey
Cornmeal for dusting
Directions: 
In the bowl of a stand mixer, mix the flours, yeast, baking powder and pumpkin pie spice together. Pour in the warm milk, water, honey and pumpkin puree. Mix with a bread hook until soft and elastic, about 8 minutes.
Remove the dough from the bowl and knead for 2 to 4 minutes on a floured surface. Grease a large mixing bowl with nonstick cooking spray and add the dough. Cover the bowl with greased plastic wrap. Place in a warm spot and let double in size, about an hour.
Once doubled, punch down and separate the dough into 8 pieces. Roll the pieces into balls and press the balls down with a spatula. Top with cornmeal. Let rise for another 45 minutes.
Heat a large griddle. Add the dough, cornmeal side down, and cook for about 8 to 10 minutes, or until golden brown. Flip over and cook on the other side for about 6 to 8 minutes.
Serve warm!
More homemade bread recipes
Easy homemade paleo bread
Dutch oven baked fresh bread
Copycat Panera white country bread