Dinner Shortcuts: Ranch oyster crackers
Need a simple snacking treat? This easy to bake ranch recipe is sure to bring a smile to everyone's face.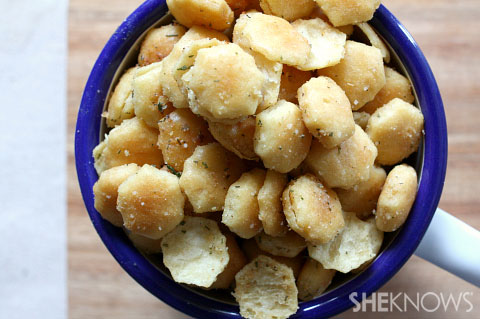 Need a snack? Tired of eating plain crackers and chips? These quick and easy homemade ranch flavored oyster crackers can be whipped up in less than 30 minutes and pack tons of flavor. If you're a fan of ranch, you will love these crackers! Perfect for snacking and soup.
Ranch oyster crackers
Yields 6 servings
Ingredients:
1 (16 ounce) box plain oyster crackers
1 ounce dry ranch seasoning
1/4 teaspoon dried dill
1/4 teaspoon garlic powder
1/2 cup olive or vegetable oil
Directions:
Preheat oven to 275 degrees F.
In a large bowl, add oyster crackers.
In a small bowl, add Ranch seasoning, dill, garlic powder and oil. Whisk together until combined.
Pour over oyster crackers and stir to combine.
Lay out on rimmed baking sheet and bake for 20 minutes.
More Dinner Shortcuts recipes
Kielbasa with peppers and onions recipe
Deep dish biscuit pizza recipe
Tomato soup mac & cheese recipe