Cheesy Hasselback potatoes
This crispy potato isn't a far cry from a french fry, but there's no frying involved, and it makes for a much more elegant presentation.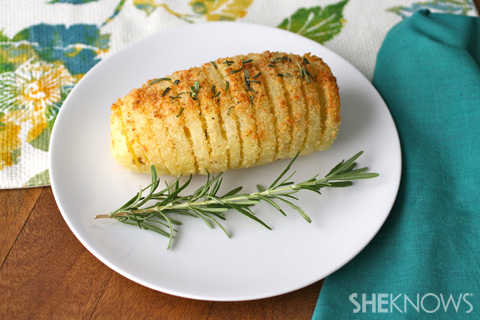 Have you ever heard of Hasselback potatoes? This recipe for cheesy Hasselback potatoes delivers spuds that are crispy on the outside, soft on the inside, and that make a pretty presentation on your table. These potatoes get crispy in the oven (no frying involved) and are very easy to make. They're great to serve as a side dish for a special meal.
Cheesy Hasselback potatoes
Serves 4
Ingredients:
2 large russet potatoes, about the same size
6 tablespoons Parmesan cheese
6 tablespoons breadcrumbs
1/2 teaspoon ground black pepper
6 tablespoons melted butter
1 tablespoon fresh chopped rosemary
Directions:
Preheat your oven to 375 degrees F. Line a baking sheet with parchment paper.
In a small bowl, combine the Parmesan cheese, breadcrumbs and ground black pepper. Set aside.
Peel the potatoes and then place them on a cutting board. Place each potato horizontally in front of you and carefully cut almost all the way through, stopping just short of the bottom of the potato, in 1/8-inch intervals from end-to-end.
Spread out each slice of potato just slightly, and pour 4 tablespoons of the melted butter evenly over each potato. Make sure to get the butter between the slices.
Sprinkle each potato evenly with the Parmesan cheese mixture, and again, make sure to get some of the mixture between the slices.
Place the potatoes on the baking sheet, and bake for about 30 minutes. At this point, the potatoes should be crisping up.
Remove the potatoes and drizzle the remaining 2 tablespoons of butter over each. Continue to bake for another 10 minutes or so, or until the inside of the potatoes are soft and the outsides are crispy.
Remove from the oven and sprinkle with the chopped rosemary.
Serve warm.
More side dish recipes
Green beans with bacon vinaigrette
Sweet potatoes with balsamic-maple glaze
Easy sweet-topped biscuits