Dinner Shortcuts: Cheesy crescent dogs
This dish can be ready in no time! Plus it's a great dish for a party or for a fun weekend meal.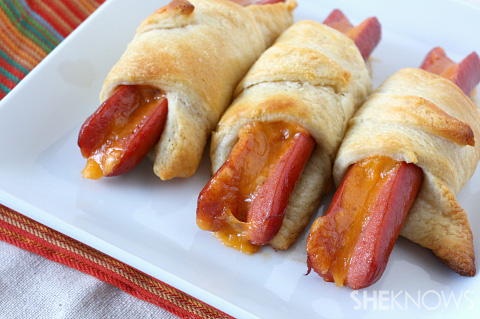 Crescent dogs are a delicious treat that kids and adults will both love. We took buttery crescent rolls and wrapped them around all beef hot dogs that have been stuffed with sharp cheddar cheese. They are perfect for a dinner on the go or even an easy weekend lunch.
Cheesy crescent dogs
Yields 8 crescent dogs
Ingredients:
1 (8 count) refrigerator crescent rolls
8 all-beef hot dogs
4 slices cheese cut into long pieces
Directions:
Preheat oven to 375 degrees F.
Unroll crescent rolls and set aside.
Cut a slit down the middle of each hot dog, making sure to leave the hot dog intact but making the slit wide enough to stuff with cheese.
Insert cheese into each slit and place the hot dog at the large end of the crescent roll. Then tightly roll up the hot dog and place, cheese side up, on a rimmed baking sheet.
Bake for about 15 minutes until the crescent is fully cooked and browned.
More dinner shortcut recipes
Chicken and rice casserole recipe
Doritos taco salad recipe
Pita pocket breakfast sandwich recipe