Dinner Shortcuts: Cheesy sausage biscuit bites
Cheesy sausage and biscuits. You cannot go wrong with this combination!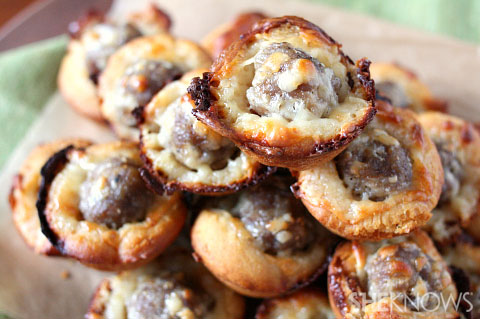 Need a quick weeknight food-on-the-run meal? Maybe you're searching for the perfect appetizer? We have both bases covered with this delicious dish. Super cheesy sausage meatballs rolled up and stuffed into flaky store-bought biscuits. This is no ordinary dish!
Cheesy sausage biscuit bites
Yields 40 sausage bites
Ingredients:
1 pound Jimmy Dean original sausage

1-1/2 cups shredded cheddar cheese, divided
1/2 cup grated Parmesan cheese
2 (10 ounce) packages flaky biscuits (found in refrigerated section)
Directions:
Preheat oven to 400 degrees F.
Using your hands, mix together sausage, 1 cup shredded cheddar cheese and Parmesan cheese. Roll mixture into 40 small meatballs.
Open biscuits and carefully peel each biscuit in half.
Spray a mini muffin tin with nonstick spray and carefully stuff in 1/2 of the biscuit. Push a raw meatball into the center.
Sprinkle each meatball with a little shredded cheese and bake for 10 minutes until the biscuit and cheese are browned and meatball is cooked.
Carefully remove each biscuit bite from the pan and serve hot.
Continue until all cheesy sausage biscuit bites have been made.
More Dinner Shortcuts recipes
Baked tacos recipe
One-skillet tuna noodle casserole recipe
Black bean tostada recipe