Dinner Shortcuts: Sweet baked ham and cheese sandwiches
Looking for a way to feed a crowd? This easy ham and cheese sandwich bake will keep you full and happy and be ready in no time.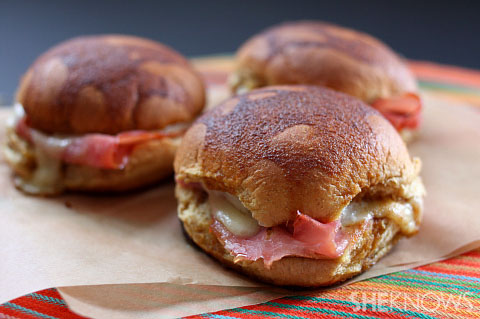 Ham and cheese might seem like a boring supper but after you taste these bad boys, you will be blown away. Sweet little sandwiches packed in a dish and smothered in a honey mustard and butter sauce. You are going to love this delicious dish!
Sweet baked ham and cheese sandwiches
Yields 24 mini sandwiches
Ingredients:
24 mini Hawaiian bread rolls
1 pound thin sliced deli ham
1 pound thin sliced deli cheddar cheese
3/4 cup melted butter
2 tablespoons honey mustard
1 teaspoon Worcestershire sauce
1/2 teaspoon garlic powder
1/2 teaspoon onion powder
Directions:
Preheat oven to 350 degrees F.
In a 9 x 13-inch casserole dish, lay out the bottom of the rolls into the dish.
Top each sandwich with 2 slices of ham. If you have to fold it over to fit, it's OK.
Lay 1 slice of cheese per sandwich and top with buns.
In a small bowl, whisk together melted butter, honey mustard, Worcestershire sauce, garlic powder and onion powder.
Pour mixture evenly over the buns and bake for 20 minutes and enjoy hot.
More Dinner Shortcuts recipes
Baked tacos recipe
One-skillet tuna noodle casserole recipe
Black bean tostada recipe