Dinner Shortcuts: Baked tacos
This simple taco recipe is baked so the shells stay crispy and the cheese is perfectly melted. Plus it's a great way to feed a crowd.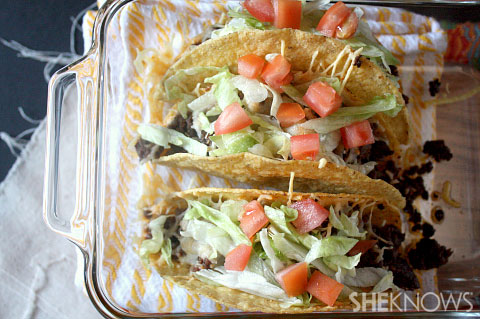 Taco Tuesday will never be the same! These crispy baked tacos are packed full of seasoned ground beef, topped with cheese and then baked until crispy. Finish them off by topping them with lots of shredded lettuce and fresh diced tomatoes.
Baked tacos
Yields 12 tacos
Ingredients:
1 pound hamburger
1 packet taco seasoning
12 hard taco shells
1-1/2 cups shredded Mexican blend cheese
2 cups shredded lettuce
1 cup diced tomatoes
Optional toppings: sour cream, guacamole and salsa
Directions:
Preheat oven to 400 degrees F.
Brown hamburger, add taco seasoning and follow directions on taco seasoning packet.
Add taco shells to a 9 x 13-inch pan and fill each shell with an equal amount of prepared taco meat.
Top with cheese and bake for about 10 minutes until the cheese is melted and the shell is crispy.
Remove from the oven and top with shredded lettuce and tomatoes.
More Dinner Shortcut recipes
Slow cooker cranberry sweet and spicy meatball recipe
Cheesy crescent dog recipe
Smoky kielbasa with peppers and onion recipe