Dinner Shortcuts: Miso black bean soup
Miso and black bean might seem like an odd pairing but just wait until you try this simple soup. Ready in under 15 minutes. Talk about fast!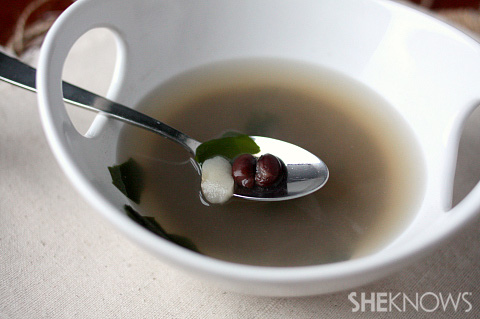 Miso soup is a quick and easy way to end your day. It can be ready in just about 10 minutes and the flavor is out of this world. However, sometimes you want a little added protein without the trouble of cooking up a piece of meat. That's why we took a basic miso soup recipe and added in black beans. It's a great source of protein and total deliciousness.
Black bean miso soup
Yields 1 serving
Ingredients:
1 packet miso soup mix
2 tablespoons olive oil
1/4 cup onions
1 teaspoon minced garlic
1/3 cup rinsed and cooked black beans
Directions:
In a small pot, make miso soup according to packet directions.
In a small skillet, heat olive oil over medium heat.
Saute onions and garlic until soft and then add black beans. Gently toss until soft and warmed.
Add beans to miso mixture and serve immediately.
More Dinner Shortcuts recipes
Cheesy crescent dogs recipe
Deep dish biscuit pizza recipe
Enchilada bubble bake recipe