Dinner Shortcuts: Black bean tostadas
A layer of fresh refried black beans and tons of fresh vegetables. This is one layered tostada you won't want to stop eating.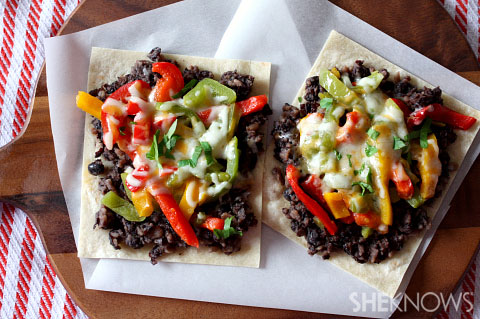 Meatless Mondays don't have to be complicated or take a lot of time. This simple dish can be ready in no time and packs lots of protein and nutrients into one small package. The best part is that you can customize this dish to your liking. Simply use just about any vegetable you desire.
Black bean tostadas
Yields 4 servings
Ingredients:
1 can black beans
1/4 cup water or vegetable broth
2 tablespoons olive oil
1/3 cup sliced yellow bell pepper
1/3 cup sliced green bell pepper
1/3 cup sliced red bell pepper
1/3 cup sliced yellow onion
4 small flour tortillas
1/2 cup cheese
2 tablespoons fresh chopped cilantro
Directions:
In a small skillet, add black beans and water. Gently simmer over medium heat until the beans start to soften. Remove from heat and mash. Cover with a lid and set aside.
In another small skillet, add olive oil over medium heat. Once the oil is hot, add bell peppers and onion. Sauté until they start to soften.
Lay out flour tortillas onto a baking sheet and cover with mashed black beans, peppers and onions. Sprinkle cheese on top of each tortilla.
Place baking sheet under the oven broiler and cook until cheese is melted and the edges of the tortilla start to crisp.
Once melted remove from the oven and sprinkle with fresh chopped cilantro.
More Dinner Shortcuts recipes
Chicken and rice casserole recipe
Doritos taco salad recipe
Pita pocket breakfast sandwich recipe