No-bake butterscotch oatmeal bites
Gluten-free oats are combined with butterscotch chips, spices and maple syrup and then rolled into little bite-sized balls. This is a perfect sweet treat for little ones.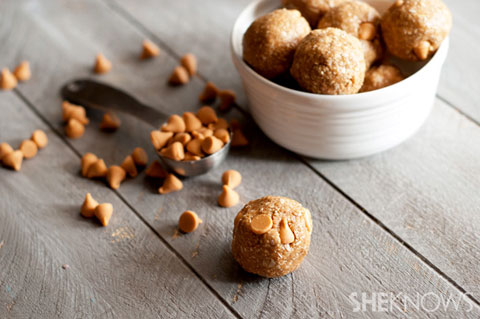 Kids love sweet treats but as moms we don't always want to let them indulge as much as they'd like. With these no-bake butterscotch bites, us moms won't have to feel guilty about letting our kids have these treats. Gluten-free and made with good quality ingredients, these are definitely a healthier alternative to packaged cookies and sweets.
No-bake butterscotch oatmeal bites recipe
Yields about 16 servings
Ingredients:
1 cup gluten-free oats
2 tablespoons ground flax seeds
1/4 cup maple almond butter
1/4 cup pure maple syrup or agave
1 teaspoon vanilla extract
1/2 cup butterscotch chips
Pinch of sea salt
Directions:
In a food processor, add the oats and the flax seeds. Pulse until the oats resemble flour. Add in the almond butter, maple syrup, vanilla and salt. Lightly pulse again until all the ingredients are mixed well.
Scoop the mixture into a bowl and fold in the butterscotch chips. Roll the dough into balls trying to keep them uniform in size. Place the balls in an airtight container lined with wax paper. This will keep them from sticking together.
Serve at room temperature or chilled. Keep leftovers in the refrigerator until ready to eat.
More no-bake treats for kids
No-bake granola
No-bake carrot cake energy bites
No-bake chocolate chip cookie dough cookie bites