Sausage and potato skillet
Sausage and potato skillet is a hearty and delicious meal that comes together in seconds! Use frozen hash browns if you're in a hurry for a meal that's sure to satisfy.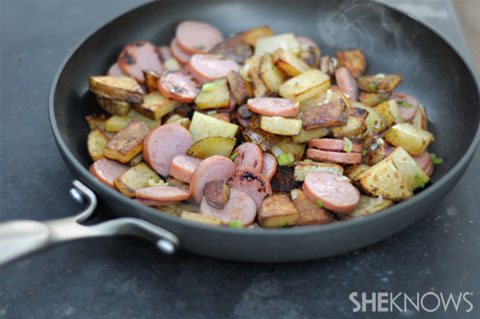 Sausage and potato skillet
Serves 2
Ingredients:
1 large russet potato, peeled and cubed
6 ounces smoked sausage
1/4 cup chopped green onions
1 tablespoon olive oil
1/2 teaspoon salt
1/2 teaspoon pepper
Directions:
Preheat a large skillet over medium-high heat.
Add the oil and the potatoes, toss to coat, and then allow to sit without stirring for about 7 minutes.
Stir, then allow to sit and cook another 6 to 7 minutes until fork tender.
Add the sliced sausage and cook through until the sausage is hot.
Toss in the green onions and serve hot.
More hearty skillet meals
Breakfast skillet with chorizo and eggs
One-skillet spicy sausage pasta
Tuna skillet