Brie and winter squash grilled cheese
Brie and winter squash grilled cheese is a sandwich everyone can agree on. Creamy, melty Brie and a perfectly roasted sweet winter squash come together between crusty, buttery bread for the perfect winter comfort food.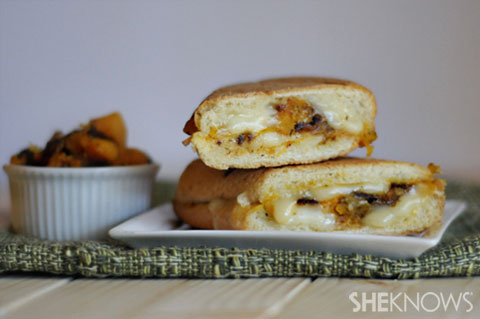 Brie and winter squash grilled cheese
Makes 2 sandwiches
Ingredients:
4 slices bread of choice
1-1/2 cups small cubed butternut or acorn squash
1 tablespoon olive oil
1 teaspoon salt
1 teaspoon rubbed sage
1/2 teaspoon black pepper
4 ounces triple cream Brie cheese of choice
Directions:
Preheat oven to 400 degrees F.
Toss the olive oil, salt, pepper and sage with the cubed squash and spread evenly on a baking sheet.
Roast for 15 to 20 minutes, stirring halfway through, until the squash is caramelized and done.
Preheat a large skillet over medium-low heat while assembling the sandwiches.
To build the sandwiches, layer 1 ounce of Brie on the bottom slice, evenly cover the Brie with half of the roasted squash, and then top with 1 more ounce of Brie and the top slice of bread.
Spray the skillet lightly with nonstick spray and place the sandwiches into the skillet immediately.
Grill until the outside is crisp and golden and the cheese is melted.
Serve hot.
More unforgettable grilled cheese recipes
Breakfast grilled cheese
Pizza grilled cheese
Brie, raspberry and chocolate grilled cheese