Bacon, mushroom and wild rice casserole
Bacon and mushroom wild rice casserole tastes like it has been cooking all day, when in reality it just takes moments to throw together. Smoky bacon, earthy mushrooms and perfectly chewy wild rice are sure to wow any crowd!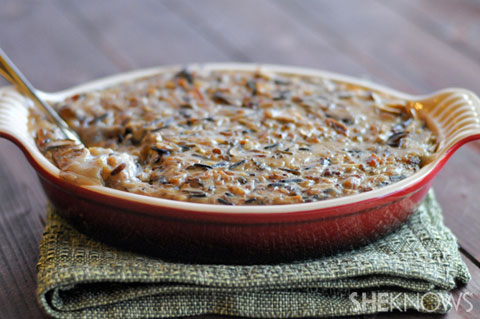 Bacon, mushroom and wild rice casserole
Serves 6-8
Ingredients:
2 cups cooked wild rice
1 pint mushrooms, roughly chopped
5 slices thick-cut bacon, cooked until crisp and chopped
2-1/2 cups nonfat milk
2 tablespoons cornstarch
1 (1.25 ounce) packet onion soup mix
1/2 teaspoon black pepper
Directions:
Preheat oven to 350 degrees F.
Heat a large skillet over medium heat.
Spray with nonstick spray, then add the mushrooms immediately.
Spread the mushrooms into an even layer, then let them cook for 6 to 8 minutes without stirring at all.
Whisk together the milk, cornstarch, onion soup mix and pepper.
When the mushrooms are caramelized, add the bacon and the wet ingredients.
Stirring constantly, cook the mixture over medium heat until very thick, about the consistency of cream of mushroom soup.
Stir in the rice, then pour into an oven-safe dish.
Cook for 15 minutes until completely heated through.
Serve hot.
More delectable mushroom casseroles
Broccoli mushroom casserole
Mushroom potato casserole
Cheesy turkey mushroom bake