Ham and cheddar biscuits
Ham and cheese biscuits are the perfect biscuit to go with any meal! Studded with creamy cheese and salty-sweet ham, these biscuits are winners.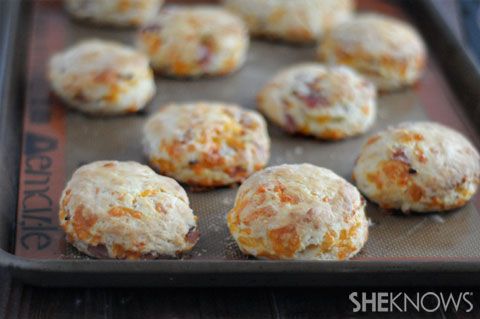 Ham and cheddar biscuits
Makes 10 large biscuits
Ingredients:
1 cup half and half
1/2 cup butter, melted and cooled
2 cups flour
2 teaspoons baking powder
1 teaspoon sugar
1/2 teaspoon salt
1/2 cup shredded sharp cheddar cheese
1/2 cup chopped, thinly sliced ham
Directions:
Preheat oven to 450 degrees F.
Line a large baking sheet with parchment paper or a silicone baking mat and set aside.
In a large bowl, whisk together the half and half and butter.
Fold in the flour, baking powder, sugar and salt until just combined.
Fold in the cheese and ham until well incorporated.
Dump the dough out onto a floured surface and gently press into a disk that is 1/2 inch tall.
Cut out the biscuits using a biscuit cutter.
Place the biscuits on the prepared baking sheet.
Bake for 15 to 18 minutes until golden brown.
Serve hot.
More favorite biscuit recipes