Witches' broomsticks mini cupcakes
Need a last-minute Halloween dessert for your kid's school party? Forget store-bought pumpkin cookies or candy corn and bring these adorable mini witches' broomsticks cupcakes instead!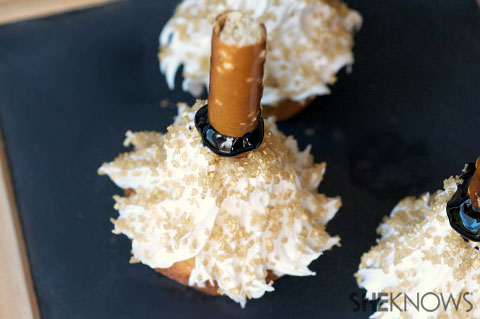 These fun little cupcakes are easier to make than you think and are a fun accessory to any Halloween party. Get your kids to help you assemble them too for a fun Halloween craft!
Witches' broomsticks mini cupcakes
Yields about 24 cupcakes
Ingredients:
1/2 box white cake mix
2 egg whites
3/4 cup water
2-1/2 tablespoons vegetable oil
12 pretzel rods cut in half
White icing in a can
Gold sprinkles
Black icing gel
Directions: 
Preheat oven to 350 degrees F. Grease a mini muffin tin with nonstick cooking spray.
In a large bowl, mix the cake mix, egg whites, water and canola oil. Fill each of the mini muffin tins 3/4 the way full with mix. Bake for about 18 minutes, or until golden brown.
Let cool on a wire cooling rack until cool.
Once cool, stick the pretzels into the mini cupcakes. Using the icing, start icing the pretzel rods about 1/3 way down and paint the top of the mini cupcake (so it looks like the broom's tassels.) Paint a black circle around the pretzel rod just above the top of the icing.
Sprinkle the white icing with gold sprinkles.
More Halloween dessert recipes
Bloody vampire cake
Jack-o'-lantern pumpkin cake
Cute jack-o'-lantern pumpkin pops