3 Fun Halloween-inspired breakfasts
Can't get your kids to eat breakfast? Give them one of these incredibly cute, fun and easy Halloween breakfast treats! Not only are some of them healthy, but they are a great way to inspire morning eating for your kids!
Your kids will not only love eating these, they'll love helping assemble them too! The tasty and healthy nectarine pumpkins and the bloody eyeballs with donuts will make breakfast fun again, for both weekdays and weekends!
Nectarine pumpkins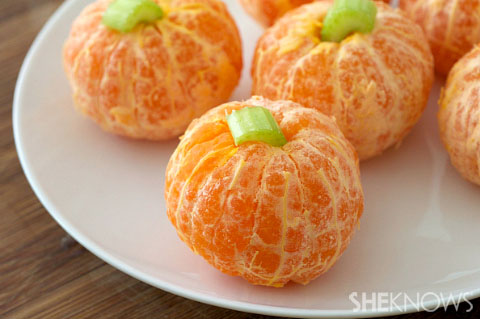 Serves about 6
Ingredients:
6 nectarines
1 celery stalk
Directions: 
Peel the nectarines and throw away the peels. Slice the celery stalk into small pieces and stick 1 piece into the top of the pumpkin.
Bloody eyeballs with donuts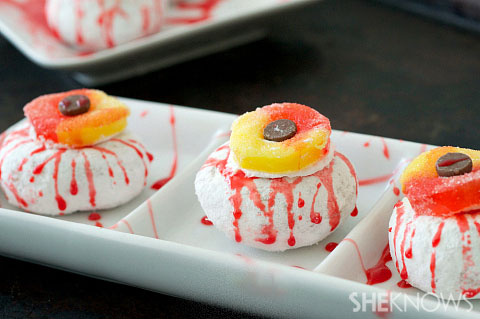 Serves about 8 (2 eyeballs each)
Ingredients:
16 mini donuts
16 gummy circle candies
Chocolate chips
White frosting
Red royal icing
Directions: 
Drizzle the royal icing all over the donut to create a "blood shot" look.
Add some icing to the top of the hole in the mini donut. Add the gummy circle and stick the chocolate chip in the middle to make the pupil.
Ghost bananas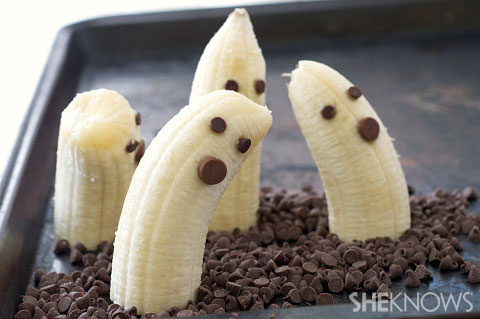 Serves about 6
Ingredients:
3 large bananas
Mini chocolate chips
Regular chocolate chips
Directions:
Cut the bananas into thirds. Add 2 small chocolate chips to the tip of the banana and 1 large chocolate chip beneath them.
More Halloween breakfast recipes
Candy corn crepes
Halloween candy apples
Healthy Halloween recipes