Cranberry shortbread bars
What are cranberry bars? Think lemon bars with a little twist! Tart cranberry filling atop a slightly sweet and salty shortbread crust and then sprinkled with powdered sugar.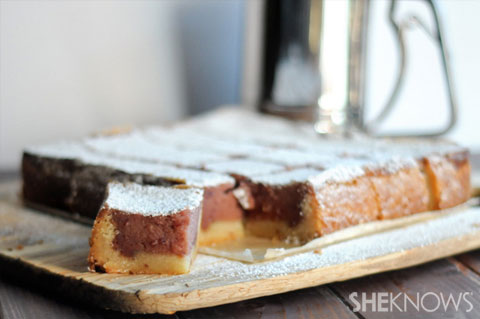 Cranberry shortbread bars
Serves 16
Ingredients:
1 (14.5 ounce) can whole cranberry sauce
3 whole eggs
2 cups granulated sugar, divided
1/4 cup lemon juice
2-1/2 cups flour, divided
1 cup butter, at room temperature
Directions:
Preheat oven to 350 degrees F.
Line an 8 x 8-inch pan with parchment paper on the bottom and sides.
In a bowl, cream together the butter, 1/2 cup sugar and 2 cups flour.
Press into the pan evenly across the bottom.
Bake for 20 minutes.
While the crust is baking, combine the cranberry sauce, eggs, 1-1/2 cups sugar, lemon juice and remaining 1/2 cup flour in a food processor.
Process until smooth.
When the crust is done baking, pour the cranberry mixture evenly into the crust.
Bake another 35 to 45 minutes until the middle is just set.
Allow to cool completely before cutting.
Dust with powdered sugar if desired.
More shortbread bar love
Peanut butter and jelly shortbread bars
Peanut butter caramel-topped shortbread bars
Coconut delight cookie bars