Banana pudding poke cake
Need a super simple dessert? Banana pudding poke cake delivers! Cake mix, pudding mix, whipped cream and love are all you need to bring about some seriously amazing cake.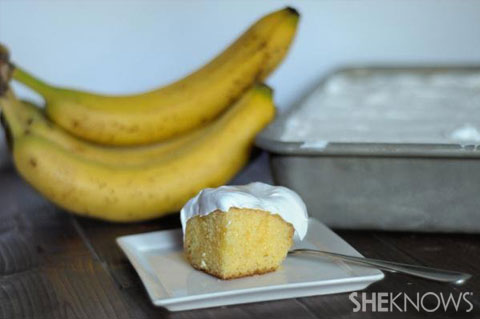 Banana pudding poke cake
Makes 1 (9 x 13-inch) cake
Ingredients:
1 (15.25 ounce) butter cake mix
1/3 cup vegetable oil
3 whole eggs
1 cup water
1 (5.1 ounce) box instant banana pudding
3 cups milk
1 (8 ounce) tub prepared whipped topping
Directions:
Preheat oven to 350 degrees F.
Whisk together the cake mix, oil, eggs and water until smooth.
Pour into a greased 9 x 13-inch cake pan and bake for 35 to 45 minutes, or until the cake is done.
Let cool for about 20 minutes.
Using a knife, skewer or fork, poke lots and lots of holes all over the cake.
Whisk together the banana pudding mix and the milk for 2 minutes until thickened.
Pour slowly all over the cake, making sure to pour directly into the holes that were poked.
Allow to refrigerate for 3 hours or overnight.
Right before serving, spread the whipped topping over the top of the cake.
Serve cold.
More dreamy poke cake recipes
Pineapple French vanilla poke cake
Rum cake
Red, white and blue poke cake