Smoked paprika party mix
A good game day mix can be hard to come by, but this one is sure to please. Mixed nuts, pretzels and goldfish crackers are tossed in a smoked paprika sauce and baked to bring out all of the flavors.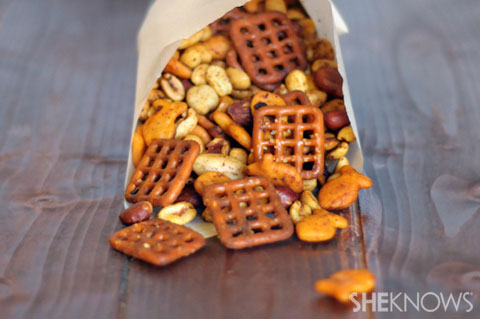 Smoked paprika party mix
Serves 15 to 20
Ingredients:
1 (9 ounce) container salted mixed nuts
9 ounces goldfish crackers
9 ounces small salted pretzels
1/4 cup butter, melted
2 tablespoons Worcestershire sauce
1 tablespoon smoked paprika
1 teaspoon garlic powder
Salt
Directions:
Preheat oven to 250 degrees F.
Stir together the butter, Worcestershire sauce, smoked paprika and garlic powder.
Toss the nuts, goldfish crackers and pretzels together in a large bowl.
Stir in the butter mixture until all pieces are coated.
Spread in a single layer on a large baking sheet.
Bake for 40 minutes, stirring every 10 minutes, until everything is crispy and golden.
Serve hot or at room temperature.
More engaging party mix recipes
Peanut butter party mix
Roasted nut party mix
Gluten-free Italian Chex snack mix