Cute critter candy bars
Take some of that Halloween candy you have saved for trick or treaters and turn it into something your kids will love even more by making one of these cute candy critters!
Made from your kids' favorite candies and sweets, these cute little critters make perfect kids' party favors and trick or treat gifts. They're so cute, even the adults will love them!
Candy bar insects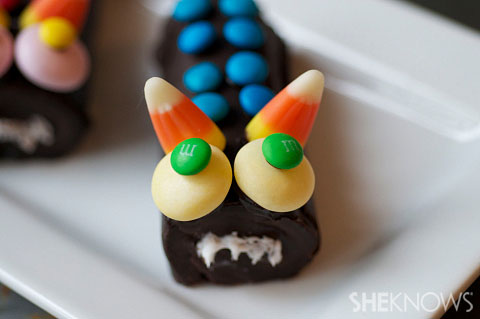 Yields about 6 critters
Ingredients:
6 Ho Hos or Yodels
Mini M&M's
Chocolate frosting
White frosting
Colored Mentos
Regular M&M's
Directions:
Using the icing, attach the M&M's to the bottoms of the Yodels or Ho Hos. Add a dab of white frosting to the tops of the Ho Hos. Stick a colored Mentos over it and then stick a chocolate mini M&M's into the center.
Dab 2 candy corns to the tops (behind the eyes) to make the ears. Make the mouth by adding a few dabs of white icing for teeth.
To give the critters colorful spines, stick mini M&M's all down the back of the Ho Hos.
Spider Oreos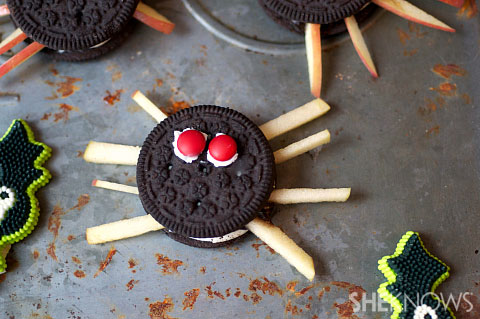 Yields about 10 spiders
Ingredients:
10 Oreo cookies
About 2 cups pretzel sticks
White icing
Mini M&M's
Directions: 
Add a dab of icing to the ends of each pretzel stick and gently push into the Oreo icing to make the legs. Add 2 dabs of white icing and stick mini M&M's into the center for the pupils.
Tasty snail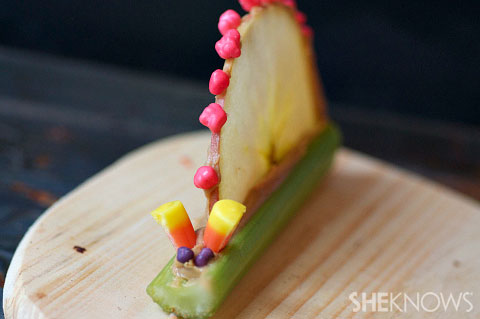 Yields about 6
Ingredients: 
6 celery sticks
About 6 tablespoons peanut butter
Nerds (in assorted colors)
Candy corn (about 12 pieces)
6 apple slices
Directions: 
Fill each celery stick with 1 tablespoon of peanut butter. Carefully draw a squiggly pattern on the apple and stick into the peanut butter in the celery stick. Stick 2 pieces of candy corn, wide side up, into the top half of the celery stick (for the ears).
Add 2 Nerds for eyes in front of the ears.
More kid-friendly Halloween recipes
Mini scream face pizzas
Cute jack-o'-lantern pie pops
Frightful fruit kebabs