Sun-dried tomato spinach and feta-stuffed chicken
Organic chicken breasts are stuffed with a mixture of spinach, sun-dried tomatoes and cheese. This is a wonderful idea for jazzing up the regular chicken dinner.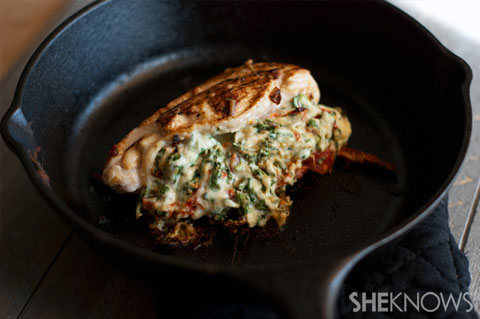 We love chicken but sometimes it can be rather boring. Here we took basic chicken breast to a whole new level by stuffing it. We used fresh spinach but you can substitute frozen spinach — just make sure to remove as much water as possible once it has been thawed. Serve this alongside mashed potatoes or steamed vegetables for a super tasty dinner.
Sun-dried tomato spinach and feta-stuffed chicken recipe
Yields 4 servings
Ingredients:
4 organic chicken breasts, washed and dried
4 ounces cream cheese, softened at room temperature
1/4 cup crumbled feta cheese
2 cups fresh baby spinach, chopped
1/4 cup sun-dried tomatoes, chopped
1/2 teaspoon garlic powder
Salt and pepper to taste
Directions:
With a knife, carefully butterfly the chicken breast. This means cutting the chicken almost in half but not all the way through. (You want to create a pocket for the filling).
In a bowl, add the remaining ingredients mixing well. Divide the mixture between each of the chicken breasts and fill each "pocket" with the filling.
Preheat your oven to 375 degrees F and also heat a cast iron or oven safe pan over medium-high heat. Spray the pan with nonstick cooking spray and carefully add the chicken breast. Cook 3 to 4 minutes per side to get a nice char on the chicken.
Remove the pan from the stove and place it into the oven. Bake the chicken for 20 minutes or until the chicken is cooked through and no longer pink.
Remove from the oven and serve warm.
More stuffed chicken recipes
Gouda-stuffed chicken
Fig and goat cheese-stuffed chicken
Blue cheese and olive-stuffed chicken