3 Unique 'puppy chow' recipes
Puppy chow is a delicious snack mix perfect for any party. Try out these three unique versions for your next get-together!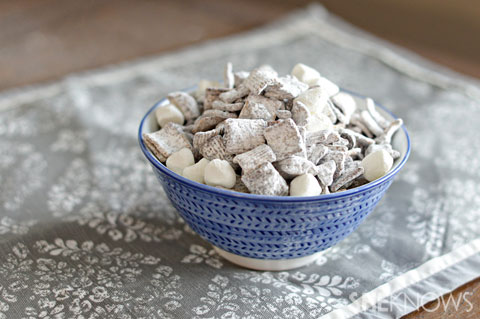 S'more puppy chow recipe
Ingredients:
6 cups Golden Grahams cereal
1-1/4 cups semisweet chocolate chips, divided
1 cup powdered sugar
1-1/2 cups marshmallows
Directions:
Measure out 6 cups of Golden Grahams cereal and put it in a gallon-size zip top bag.
Pour 1 cup of the semisweet chocolate chips into a microwave safe dish. Microwave the chocolate chips until they are completely melted.
Pour the melted chocolate into the zip top bag with the cereal. (Be careful, the chocolate will be hot!)
Add the powdered sugar, marshmallows and remaining 1/4 cup chocolate chips to the bag. Then shake the bag until the chocolate and powdered sugar are evenly distributed.
Transfer to a bowl and serve.
Cookies and creme puppy chow recipe
Ingredients:
6 cups Chex cereal
1 cup white chocolate chips
10-12 crushed Oreo cookies
1/2 cup powdered sugar
Directions:
Pour the 6 cups of Chex cereal into a large bowl.
Melt the white chocolate chips in the microwave and pour them over the Chex cereal.
Add in crushed Oreo cookies and powdered sugar and mix the ingredients together until they are well combined.
Allow the chocolate to cool, and then serve.
Cake batter puppy chow
Ingredients:
6 cups Chex cereal
1 package white chocolate candy melts
1/4 cup funfetti cake mix
1/2 cup sprinkles
1 cup powdered sugar
Directions:
Melt the candy melts in a microwave safe bowl.
Once melted, stir in the funfetti cake mix.
In a large bowl, combine the Chex cereal, candy melt mixture and sprinkles.
Once the ingredients are well combined, toss with the powdered sugar until the powdered sugar is evenly distributed.
More snack ideas
Homemade teddy grahams
Easy road trip snack recipes
Apple nachos recipe