Lasagna-stuffed calzones
Calzones stuffed to the brim with all of our favorite lasagna ingredients and then baked off to golden goodness. You'll never look at lasagna the same way again!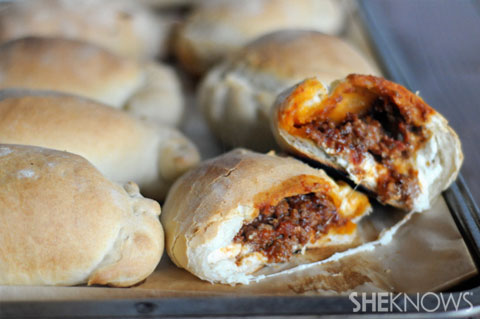 Lasagna-stuffed calzones
Makes 8 calzones
Ingredients:
1 pound prepared pizza dough
1 pound Italian sausage
2 cups marinara sauce of choice
1 cup ricotta cheese
1/2 cup grated Parmesan cheese
3/4 cup shredded mozzarella cheese
Directions:
Line a baking sheet with parchment paper.
Heat a large cast iron skillet over medium heat.
Brown and crumble the sausage.
Drain the grease from the sausage, then pour in the marinara.
Bring to a simmer and let the sauce cook down until almost all the liquid has been absorbed, about 10 minutes, stirring constantly.
In a small bowl, mix together the ricotta, Parmesan and mozzarella cheese until well combined.
Divide the dough into 8 equal pieces.
For each calzone, roll the dough into an 8-inch circle.
Place 1/8 of the cheese mixture and 1/8 of the meat mixture in the center.
Close the dough edges together to make a half-moon shape.
Press and seal all of the edges very well.
Place on the baking sheet and repeat until 8 calzones are made.
Bake at 500 degrees F for 15 minutes until golden brown.
Serve hot.
More mouthwatering calzones
Smoky paprika pork calzones
Spinach and cheese calzones
BBQ pulled pork calzones