Apple slab pie
Need dessert to feed a crowd after the big game or even for pre-planning a Thanksgiving feast? Look no further! Apple slab pie is made in a large square dish, making slicing and serving easy! Pie crust, fresh apple pie filling and sweet vanilla drizzle come together to make dessert a breeze!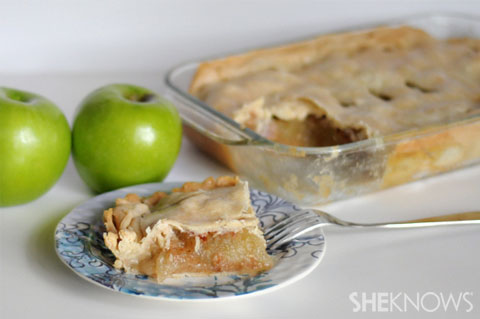 Apple slab pie
Serves 8-12
Ingredients:
1 (14.1 ounce) package prepared pie dough
4 cups chopped apples
1 cup whole wheat breadcrumbs
2/3 cup sugar
1 teaspoon cinnamon
1-1/2 cups powdered sugar
1/4 cup apple juice
1 tablespoon vanilla extract
Directions:
Preheat oven to 350 degrees F.
Unroll the pie dough onto a clean counter top sprinkled lightly with flour.
Roll the dough pieces into large rectangles about 1/8-inch thick.
Gently press 1 piece of dough into a 2.2-quart rectangular baking dish, being sure to press it up the side of the dish.
Sprinkle the bottom with breadcrumbs.
Top the breadcrumbs with the chopped apples.
Sprinkle the sugar on top of the apples.
Sprinkle the cinnamon on top of the sugar.
Take the remaining piece of pie dough and place it on top of the pie, pressing the edges together.
Cut a few slits in the top of the pie to let steam escape.
Bake at 350 degrees F for 45 to 55 minutes until the crust is golden brown and the pie filling is bubbly.
While the pie is baking, whisk together the powdered sugar, apple juice and vanilla.
When the pie is done, pour the glaze immediately over the top.
Spread the glaze to the edges.
Let cool completely before serving.
More amazing apple pie recipes
Lunchbox apple pie
Apple pie filled cupcakes
Apple pie cookies with salted caramel glaze