Apple cheesecake with gingersnap crust
Fabulous cheesecake that's perfect for fall! A cinnamon-scented cheesecake center over a gingersnap crust and topped with sweet apple pie filling — dessert will never be the same!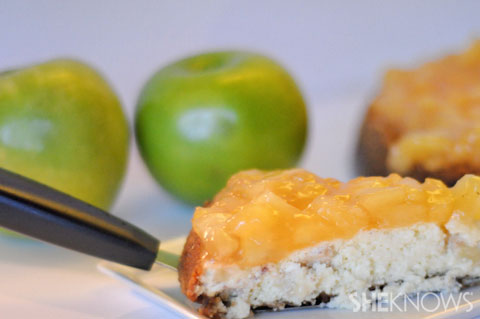 Apple cheesecake with gingersnap crust
Serves 10
Ingredients:
2 cups gingersnap cookie crumbs
1/4 cup brown sugar
1/3 cup butter, melted
2 (8 ounce) packages cream cheese, softened
1/2 cup granulated sugar
2 tablespoons flour
2 whole eggs, at room temperature
1 large Granny Smith apple, peeled, cored and chopped finely
1 teaspoon vanilla extract
1 teaspoon cinnamon
2 cups store-bought apple pie filling
Directions:
Preheat oven to 350 degrees F.
Cover the bottom of a 10-inch springform pan tightly with foil.
Combine 1/4 cup of brown sugar, the gingersnap crumbs and the melted butter until crumbly.
Press evenly onto the bottom of the pan and up the sides at least 1-1/2 inches.
Bake for 10 minutes.
Let cool slightly while making the filling.
In a large bowl, cream together the cream cheese and granulated sugar.
Add the eggs and mix until completely combined.
Add the vanilla and cinnamon and mix until well combined.
Toss the flour and chopped apple together.
Fold all of the apple and flour mixture into the cheesecake batter.
Pour into the prepared crust and spread evenly to the edges.
Place the pan in a larger pan and fill the larger pan halfway up the sides of the springform pan with water.
Place carefully in the oven and bake for 30 to 45 minutes until the center is just set.
Allow to cool completely.
To serve, top with the apple pie filling.
More luscious cheesecake recipes