Apple French toast strata
French toast is a pain no more! Assemble this apple French toast strata the night before, then bake off in the morning for a perfect weekend or holiday breakfast!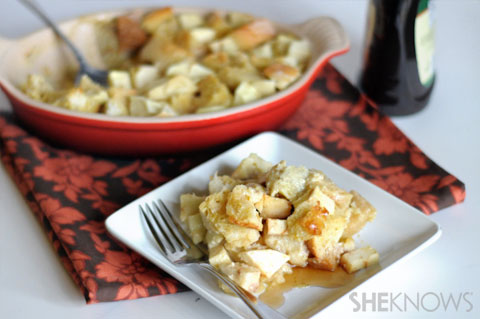 Apple French toast strata
Serves 4
Ingredients:
2 cups cubed stale bread
1 cup chopped apple
6 whole eggs
1/4 cup brown sugar
1/4 cup whole milk
1 teaspoon vanilla extract
1/2 teaspoon cinnamon
Directions:
Preheat oven to 350 degrees F.
In a bowl, whisk together the eggs, brown sugar, whole milk, vanilla and cinnamon.
In a buttered 2-quart baking pan, toss together the apples and cubed bread.
Pour the egg mixture evenly over the bread and apples, making sure to press the bread down into the mixture.
Refrigerate overnight.
To bake, preheat the oven to 350 degrees F.
Let the casserole sit out for about 10 minutes before baking.
Bake for 35 to 45 minutes, or until the middle is just set.
Serve hot with butter and syrup.
More delicious strata recipes
Savory breakfast strata
Broccoli and ham strata
Vegetarian breakfast strata