Dinner Shortcuts: Loaded tuna wrap
Need a simple lunch? This tuna wrap is packed full of vegetables and wrapped up in a whole wheat tortilla. Healthy and delicious.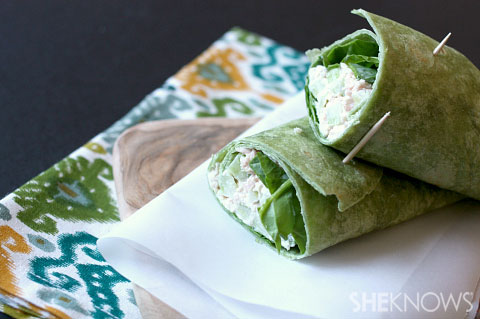 A healthy lunch is a great way to get through the day. Quick lunches do not have to come in the form of fast food or have to be bought from a vending machine. This quick tuna wrap sandwich can be made in just under 10 minutes and will keep you full all through the day. We packed ours with lots of green vegetables but feel free to use your imagination and use any vegetable you have on hand.
Loaded tuna wrap
Yields 1 wrap
Ingredients:
1 large whole wheat spinach tortilla wrap
1 can albacore white tuna, drained
1/4 cup mayonnaise, more or less depending on desired texture
Salt and pepper, to taste
2 tablespoons chopped onion
2 tablespoons chopped celery
2 tablespoons chopped cucumber
1/2 cup packed baby spinach
Directions:
Lay out spinach wrap and set aside.
In a mixing bowl, add tuna, mayonnaise, salt, pepper, onion, celery and cucumber. Mix together. Add more mayonnaise if you want a creamier tuna salad.
Add spinach to the middle of the wrap and lay tuna mixture on top.
Roll up wrap like you would a burrito. If the wrap will not stay closed simply use a toothpick to hold it together.
Note: Other ideas for vegetable add-ins are carrots, cabbage, tomatoes, green peppers and water chestnuts.
More dinner shortcut recipes
Ham and cheese crescent roll-up recipe
Barbecue chicken pizza recipe
Salmon patties recipe