Dinner Shortcuts: Smoky kielbasa with peppers and onions
We paired fresh kielbasa with lots of peppers and onions and just a touch of smoked paprika. This is one dish that is perfect for the cold winter weather.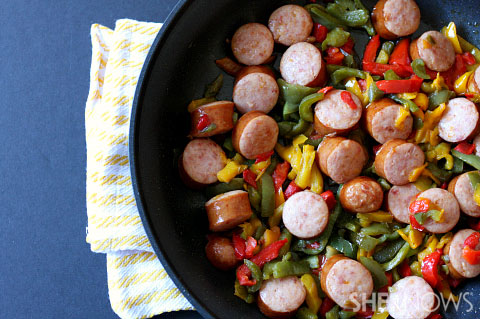 This easy and quick breakfast is not short of flavor and can be ready in under 20 minutes. That makes this dish perfect for the crazy weeknight rush. Plus because we used frozen peppers it helps keep the cost down while still giving you the fresh pepper flavor and taste.
Smoky kielbasa with peppers and onions
Yields 4 servings
Ingredients:
3 tablespoons olive oil
1 smoked pork kielbasa, cut into 1-inch slices
1 pound frozen mixed bell peppers and onions
2 cloves garlic
1/2 teaspoon smoked paprika
Salt and pepper, to taste
Directions:
In a large skillet, heat olive oil over medium heat. Add in sausage and brown for about 3 minutes.
Add in frozen peppers and onions and cook until soft and no longer frozen.
Add in garlic, smoked paprika, salt and pepper.
Cook until everything is browned.
More Dinner Shortcuts
Pita pocket breakfast sandwich recipe
Sorta homemade baked beans recipe
Chicken Caesar pasta salad recipe