Easy pea and mozzarella soup
Halloween is just around the corner! So if you're looking for a non-sugary recipe for the adults, then this soup is a great addition to any Halloween party because of the vibrant green color. The addition of fresh mozzarella adds a nice creamy consistency and smooth flavor which complements the sweet peas. It's an incredibly easy and delicious comfort dish that you just have to try!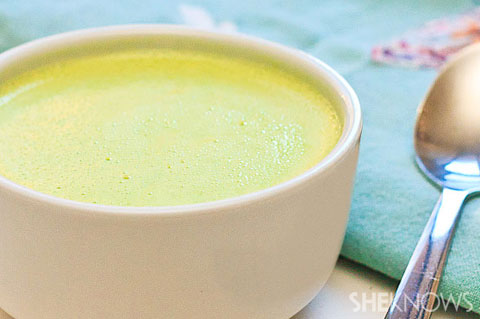 This is an incredibly easy pea and mozzarella soup. The addition of garlic, shallots and thyme gives it a real zing but it's also very warming. The perfect comfort food in a bowl, this soup will see you through many chilly nights!
Easy pea and mozzarella soup
Yields 4 servings
Ingredients:
2 teaspoons olive oil
2 cups low-sodium vegetable broth
2 cups frozen peas
4 ounces diced fresh mozzarella
1 clove garlic, chopped
1 shallot, chopped
1/2 teaspoon fresh or dried thyme
1/2 teaspoon salt, or to taste
1/4 teaspoon pepper, or to taste
Directions:
To a blender, add diced mozzarella, set aside. In a pot, heat the olive oil over medium heat. Add shallot and garlic, cook until softened, about 4 minutes. Add vegetable broth, thyme, salt and pepper; bring to a boil. Stir in the frozen peas and cook until defrosted.
Ladle the peas and broth into your blender with the fresh mozzarella. Puree mixture until smooth. Add to pot and adjust with salt and pepper to taste. Serve hot or chilled.
More soup recipes
Vegan asparagus soup recipe
Soba noodle soup with shrimp recipe
Cioppino recipe