Baked apples with caramel sauce
These delicious baked apples are filled with spices, oats and drizzled with sweet caramel sauce. This is a simple dessert to enjoy during the fall and winter months.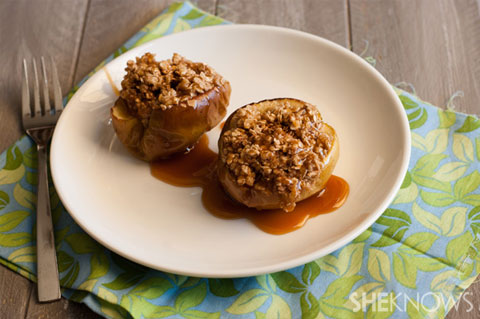 These baked apples taste just like apple pie filling but without the crust. The baking of the apples brings out their natural sweetness. We made this version gluten free by simple using almond flour which is finely ground balanced almonds and gluten-free oats. Feel free to use what you have on hand to create your own delicious version of this baked treat.
Baked apples with caramel sauce recipe
Yields 4 servings
Ingredients:
2 large Honeycrisp or Fuji apples
2 tablespoons butter, melted
2 tablespoons pure maple syrup, honey or brown sugar
1/2 cup gluten-free oats
1 teaspoon apple pie spice
Pinch of sea salt
1/4 cup jarred caramel sauce
Directions:
Preheat oven to 350 degrees F and line a small casserole dish with parchment paper.
Slice apples in half and scoop out the seeds with a spoon and to also help create a little cup to help hold the filling.
In a bowl, mix the melted butter, maple syrup, oats, apple pie spice and salt. Stuff the center of the apples with the filling and bake for about 25 minutes or until the tops are golden brown and the apples are soft.
Remove from the oven and allow to cool just slightly. Drizzle with the caramel sauce and serve warm.
More apple recipes
Apple and pear cider cups
3 Unique savory apple recipes
Apple quinoa parfait