Spinach, mushroom and mozzarella quesadillas
These quesadillas are loaded with earth mushrooms, fresh baby spinach and topped off with shredded mozzarella. Serve these tasty meatless quesadillas with salsa or guacamole.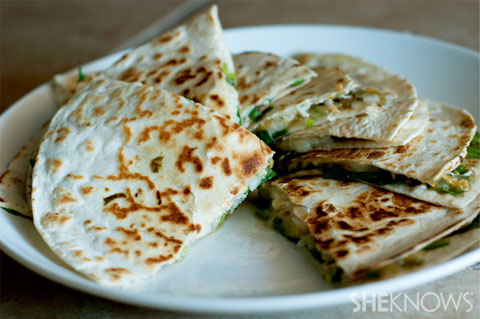 These easy mushroom and spinach quesadillas are not only super easy to make, but they are full of healthy ingredients. Skip the flour tortillas and opt for a healthier version such as a whole grain tortilla. The mozzarella adds a little cheesy goodness and also helps hold the veggies in place. This is a great way to also sneak veggies into your kids' diets.
Spinach, mushroom and mozzarella quesadillas recipe
Yields 2 quesadillas
Ingredients:
1 cup mushrooms, sliced (these can be cooked or eaten raw)
2 cups fresh baby spinach
4 medium-sized whole grain tortillas
1 cup shredded mozzarella cheese
Salt and pepper to taste
Nonstick cooking spray
Directions:
Heat a large pan over medium heat.
On a tortilla, add 1/2 cup of sliced mushrooms and 1 cup of the baby spinach. Sprinkle with mozzarella and top with an additional tortilla. Repeat with remaining tortilla and ingredients.
Spray the pan with the nonstick cooking spray and add 1 of the quesadillas to the pan cooking 3 to 4 minutes per side. Repeat with the second quesadilla. Cut into wedges and serve warm.
More Mexican food recipes
Cilantro lime rice burrito bowls
Summer veggie tacos with avocado sauce
Super loaded BBQ nachos