Baked Krispy Kreme-inspired donuts
Craving a piping hot, frosting covered and deep fried to perfection Krispy Kreme donut? Well, now we are! Next time the warm donut craving hits, forget the car keys. Instead, make your own with this healthier baked recipe!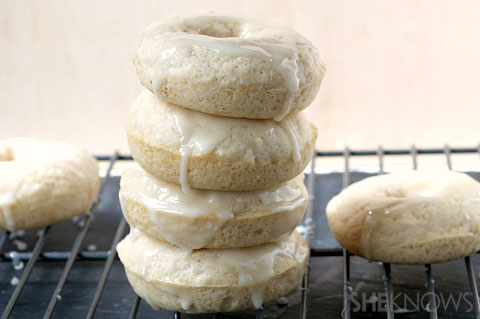 Now you can enjoy your favorite warm vanilla donuts without the guilt that comes with eating the fried versions. Each of these baked donuts has over 1/3 less fat and fewer calories without sacrificing any of that glazed donut flavor. Your kids will adore these and they'll definitely get the kids out of bed easier during the week!
Baked Krispy Kreme-inspired donuts
Recipe inspired by Chocolate Covered Katie
Serves 12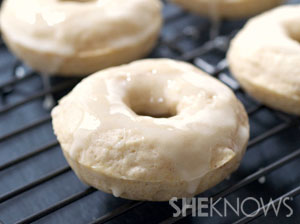 Ingredients:
For the donuts: 
1-1/3 cups almond milk
2 teaspoons vanilla extract
2 teaspoons apple cider vinegar
3 tablespoons unsweetened applesauce
3 tablespoons canola oil
2 cups all-purpose flour
3 teaspoons baking powder
2/3 cup sugar
1 teaspoon cinnamon
Dash of salt
For the glaze: 
1/4 cup cream cheese
3 tablespoons heavy cream
1-1/2 cups powdered sugar
Directions:
Preheat oven to 350 degrees F. Grease a donut pan with nonstick cooking spray.
In a large bowl, whisk the almond milk, vanilla, vinegar, applesauce and canola oil. Stir in the flour, sugar and cinnamon. Stir in a dash of salt.
Scoop the batter into the donut pans, filling about 3/4 the way full (the donuts will rise). Bake for about 8 to 10 minutes, or until golden brown.
Let cool for about 4 to 5 minutes on a wire cooling rack. While donuts cool, prepare frosting by whisking the cream cheese, cream and sugar together. While the donuts are warm, glaze with the icing. Serve immediately.
More homemade donut recipes
How to make old fashioned homemade donuts
Cinnamon sugar baked donuts
Orange-cranberry donut recipe