Beer-battered shrimp and quick spicy remoulade
Beer-battered shrimp is not only delicious, but dangerously easy. Let your favorite beer do the flavoring in the batter, and let your taste buds go wild!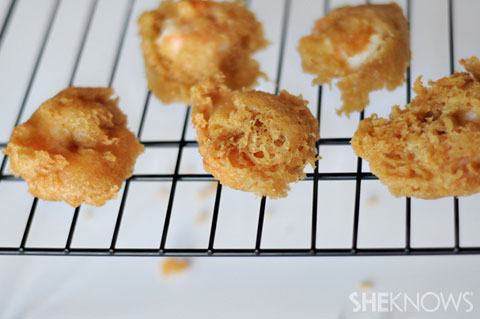 Beer-battered shrimp with quick spicy remoulade
Serves 4
Ingredients:
1 pound large shrimp, peeled and deveined
1/2 cup flour, plus 2 tablespoons
2 tablespoons melted butter
1 tablespoon baking powder
1 teaspoon salt
6 ounces dark beer
Vegetable oil for frying, about 4-6 cups
1 cup mayonnaise
3 tablespoons coarse grain mustard
2 teaspoons Old Bay seasoning
1/4 cup chopped dill pickles
Directions:
In a bowl, whisk together the 1/2 cup of flour, butter and baking powder.
Gently stir in the beer until it reaches the consistency of thin pancake batter.
Refrigerate for about 15 minutes.
Season the shrimp with the salt and toss with the 2 tablespoons of flour.
Heat the oil in a small pot over medium-low heat to 350 degrees F.
When the oil is ready, dredge the shrimp in the batter until thickly coated.
Fry for about 1-1/2 to 2 minutes on each side until the batter is golden and crunchy and the shrimp are cooked through.
To make the remoulade, stir together the mayonnaise, the mustard, Old Bay seasoning and chopped pickles.
When the shrimp have all been cooked, serve hot with the remoulade.
Endless beer batter possibilities
Beer-battered fried chicken
Beer-battered onion rings
Beer-battered fish tacos