Ham and cheddar-stuffed pretzel rolls
Fresh pretzel dough filled with salty ham and creamy cheese is one game day food you'll never want to do without again!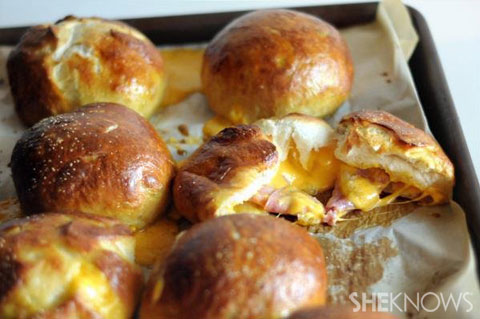 Ham and cheddar-stuffed pretzel rolls
Makes 8 rolls
Ingredients:
1-1/2 cups warm (110 to 115 degrees F) water
1 tablespoon honey
2 teaspoons salt
1 package active dry yeast
4-1/2 cups flour
1/4 cup canola oil
2/3 cup baking soda
1 egg yolk
8 ounces sharp cheddar cheese
8 slices deli ham
Large pot of water
Directions:
Combine the water, sugar and yeast in the bowl of a stand mixer. Allow to sit for about 5 minutes until the mixture begins to foam.
Add the flour, canola oil and mix until well combined.
In the stand mixer, knead the dough until it becomes smooth and pulls away from the side of the bowl.
Place the dough in a large well-oiled bowl, cover with a damp cloth, and place in a warm area until it doubles in size, about 60 minutes.
Bring the pot of water to a boil and add the baking soda.
Preheat oven to 425 degrees F and line a large baking sheet with parchment paper.
Cut the dough into 8 equal pieces.
Press each piece of dough into a small disk, like a tiny pizza, and place 1 ounce of cheese and 1 slice of ham in the middle.
Fold the dough over the ham and cheese.
Pinch the dough together to seal.
Boil each pretzel roll in the water-baking soda mixture for about 1 minute, and then remove immediately and place on the prepared baking sheet.
Once all of the pretzels are boiled, brush lightly with the egg yolk and sprinkle with salt.
Bake at 425 degrees F for about 15 to 18 minutes until golden brown and baked through.
Remove from oven and allow to cool for at least 5 minutes before serving.
Serve hot or at room temperature with mustard if desired.
More exciting soft pretzel recipes
Ranch soft pretzels
Warm cheesy beer dip with soft pretzels
Pretzels with spicy mustard