Cinnamon chip cookie sandwiches
The new favorite cookie recipe in town! Cinnamon chips are scattered in a fabulous cookie dough batter, baked off and then layered with fabulous icing for the perfect fall cookie sandwich.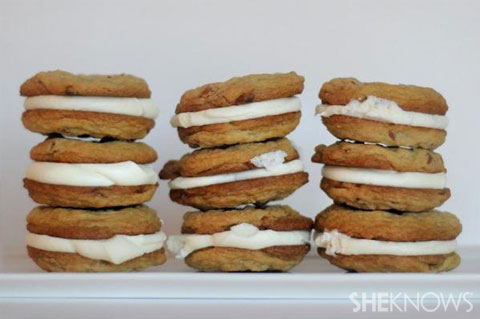 Cinnamon chip cookie sandwiches
Makes 40 cookie sandwiches
Ingredients:
2-1/4 cups flour
1 teaspoon baking soda
1/2 teaspoon salt
1-1/2 cups butter, divided and softened
1-1/2 cups light brown sugar
2 whole eggs
2 cups cinnamon chips
8 ounces cream cheese, softened
3 cups powdered sugar
Directions:
Preheat oven to 375 degrees F.
Line a baking sheet with parchment paper.
In a bowl, cream together 1 cup of butter and brown sugar.
Add the eggs and mix until well combined.
Sift in the flour, baking soda and salt.
Mix until just combined.
Fold in the cinnamon chips.
Scoop by the tablespoonful onto the prepared baking sheet.
Bake at 375 degrees F for 8 minutes until just done.
Let the cookies cool completely before sandwiching with frosting.
For the frosting, cream together the remaining 1/2 cup of butter and the cream cheese.
Gently stir in the powdered sugar until combined.
To make the sandwiches, spread about 1-1/2 tablespoons of the icing onto the bottom of 1 cookie, then place another cookie on top of the frosting, pressing down gently.
Serve cold or at room temperature.
More decadent cookie sandwiches
Chocolate cookie and salted caramel ice cream sandwiches
Peanut butter and Nutella sandwich cookies
PB&J ice cream cookie sandwiches