Grab-and-go veggie cups with green goddess dip
Fresh, crunchy veggies and a creamy, healthy avocado-based dip are made ahead and stored in jars. This is a wonderful way to stay on track while eating healthy not to mention a great after-school snack for kids.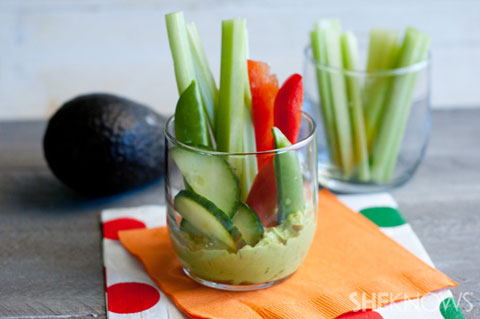 A healthy snack can be hard to find when you are busy. By planning ahead of time and preparing this veggie cups, you have no excuses when hunger strikes and you need something fast. This is a wonderful idea to make for not only yourself but if you have children especially as an afternoon snack.
Grab-and-go veggie cups with green goddess dip recipe
Yields 4 to 6 veggie cups with dip
Ingredients:
For the veggies:
4-6 clean glasses or Mason jars with lids
1 large red bell pepper, sliced
1 large cucumber, sliced
2 cups snow peas or sugar snap peas
For the green goddess dip:
1/4 cup light mayonnaise
1/4 cup 0 percent plain Greek yogurt
2 garlic cloves, peeled
1 lime, juiced
1 avocado cut in half and pit removed
1 teaspoon raw agave nectar or other sweetener
Salt and pepper to taste
Directions:
Divide the vegetables between the Mason jars and place the lids on tightly.
In a food processor or blender, add all of the ingredients for the green goddess dip. Blend until very smooth and creamy. Store the dip in an airtight container or portion the dip out into small travel-sized containers.
Keep both the dip and the veggie cups refrigerated until ready to serve.
More healthy snack ideas
7 Healthy midnight snacks
Healthy snacks for the mid-morning munchies
10 Healthy snacks for kids